EMIL SARLIJA'S HOMEPAGE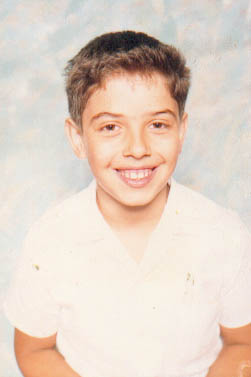 A constant work in progress
So here you are. Not very exciting is it? Visually, as you've probably noticed, it's nothing special. I've concentrated on content rather than spiffy visual effects so it can be viewed in any browser. I even tried to make it rather Lynx friendly. The only Java is in my coffee mug. The only frames are on my reading glasses. If your browser doesn't support Java or frames, excellent. You're not missing out on anything.
You're probably wondering who that obnoxious looking little bugger is in the picture above. Surprise, surprise, it's me at around ten years of age. Didn't I have such big gums, eh? Now compare that to this one of me having way too much fun at a friends house-warming party mid 2002.
It's been just over two years since I've updated this page. Those who knew me then probably remember me teetering on a see-saw of happiness and misery as I spent my time in Edinburgh trying to win back what I had lost. I am not going to revisit it by explaining it here. I'll reserve that sort of thing to the memorial filing cabinet.
So what has been happening with me in the last two years? Shitloads!
Have I changed in that time? Possiby so.
Have things improved in my life since then? In many cases, yes.
Can I be bothered explaining further? Nup!
Click on the links below for more than you ever wanted to know about me. Ewww!
About Me
Arty Stuff
Poetry & Lyrics
Muzak
Musical Gear
My Collection Of Vinyl Records
People Who Enrich My Life
Please, take me somewhere nice!
Mail me at BRAemil@chookfest.net if there's anything you'd like to tell me. All comments are appreciated, no matter how nasty and degrading you may get towards me. If there's something that offends you, expect no action whatsoever. Unless, of course, you're some sort of ridiculously rich multinational corporation, or individual(s), that's threatening to severely fuck me up for something I said about them, in which case you can GET FUCKED!!!
Spam Prevention! Remove BRA to mail me.
Yes, I'm a twisted bastard!
Last updated: 29 June 2009