Back
Dave Smith Instruments Mopho Keyboard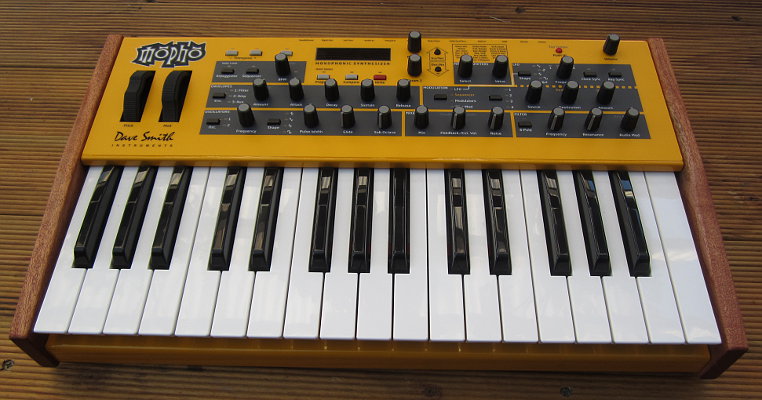 This is a damn fine monophonic synth. It's well made, sounds great, and those wooden side panels are a really nice touch. It features two oscillators, three envelope generators, four LFOs, a Curtis low pass filter, white noise source, two sub-oscillators, a 4x16-step sequencer, an arpeggiator, and a feedfback loop. It has plenty of modulation routing options plus three banks of 128 memory locations. Hell, even the built in presets are damn nice with patches that pay tribute to some of my favourite fusion and prog keyboard players.
It is a very clean sounding synth but can go very deep and even destroy speakers should that be your desire. It sounds big - a fact proven by its "Royal Horns" patch. I love that patch. Synth brass is cool. All parameters are accessible via the knobs although you have to select via buttons which oscillator, LFO, or envelope the knobs are affecting. Not a problem. Lesser used parameters are in the menu although easily found.
The big selling point for me, besides the convenience in storing patches, was the Poly Chain port. This allows me chain other Dave Smith synths that have the same voice architecture, like the Tetra, in order to get polyphony.
NICE!
I have a few minor criticisms but none of them are deal breakers. The built in sequencer and arpeggiator are not output via the MIDI port. Not fussed. The name "Mopho" is a tad naff as is the logo which conjures up imagery of skaters and/or surfers. I can deal with that. There is no manual mode but one has to load a basic patch that you shape into what you want. Mildly inconvenient but workable.
Regardless of it's few minuses, the positives more than compensate. Think about it. It's an American made synth that is true analogue and contains modern conveniences. The body is made of sturdy metal and wood and the keyboard is of good quality with a nice feel. Who cares if the thing is yellow?! You ain't gonna lose something that bright, are ya?
I have a lot of respect for Dave Smith, and not only for his past achievements and products. This is a well built quality instrument that is extremely flexible. Think for a second, it retails for less than $1000. That's pretty damn good if you ask me.
Back