Chookfest
Back
Agenda Computing VR3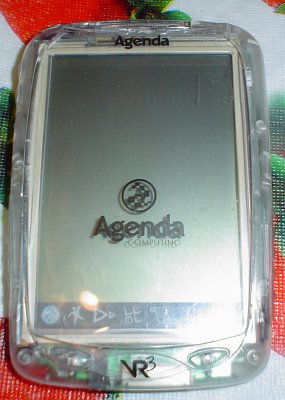 Specifications
| | |
| --- | --- |
| MANUFACTURER | Agenda Computing |
| MODEL | VR3 |
| YEAR OF INTRODUCTION | 2001 |
| MAIN PROCESSOR | VR4181 (MIPS) |
| BITS | 32 |
| CLOCK SPEED | 66 MHz |
| FLOATING POINT UNIT | none |
| MEMORY MANAGEMENT UNIT | integrated |
| CO-PROCESSOR | none |
| RAM | 8M |
| ROM | 16M |
| OPERATING SYSTEM | Linux |
| HONOURABLE MENTION | Will Harford |
During my 2 week stay in Toronto, Canada with my sister, a dinner party was thrown. I was sitting sitting with my friend Toby, admiring a slideshow of the various old computers I left behind in Australia. One of the guests, Will, chuckled at us and mentioned that he had an old Linux PDA he was willing to sell me for $20 Canadian.
My ears pricked up and a smile beamed across my face.
Unlike a lot of PDAs which had Linux ported to it as an alternative to it's bundled proprietary OS, the VR3 was built specifically to run Linux. It wasn't all that successful in the marketplace either and the company now no longer exists. Also, the latest kernel available for it is 2.4.0 unless someone decides to create a new one.
There are instructions available on the net to make several modifications and improvments. The 8M of RAM can be upgraded to 16 if one is very good at soldering. The unit also takes standard AAA alkaline batteries which it goes through in about a week of regular use. One can also modify the unit and cradle to run off a DC power supply and charge NiMH batteries.
Back
Chookfest