Chookfest
Back
Dennis Severin's 6803 ProBug System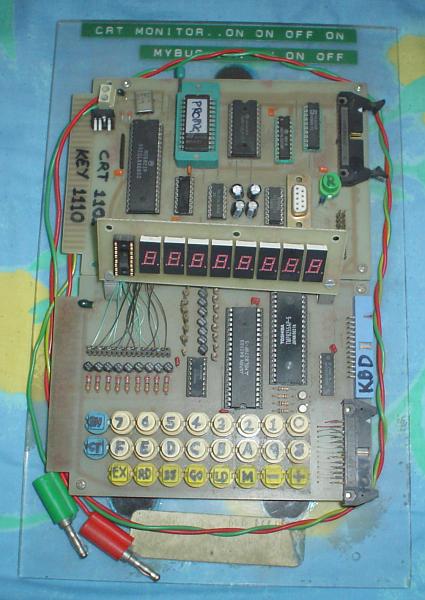 Specifications
| | |
| --- | --- |
| MANUFACTURER | Dennis Severin |
| MODEL | 6803 ProBug System |
| YEAR OF INTRODUCTION | 1986 |
| MAIN PROCESSOR | 6803 |
| BITS | 8 |
| CLOCK SPEED | 1.2672 MHz |
| FLOATING POINT UNIT | none |
| MEMORY MANAGEMENT UNIT | none |
| CO-PROCESSOR | none |
| RAM | 2.12k |
| ROM | 2k |
| OPERATING SYSTEM | Motorola ProBug Monitor |
| HONOURABLE MENTION | Dennis Severin |
This is another example of me asking Dennis if I could borrow a development system and him saying that I could keep it, then giving me a bunch of documentation.
As far as I can tell, the machine was built from the memory map and circuit description to accomodate Motorola's ProBug monitor program for 6801 & 6803 processors. Basically, all ProBug required was the internal RAM at $0080-$00FF for the system, the ROM at $B800-$BFFF, and the CPU to be driven by a 5.068MHz crystal to set the correct baud rate on the internal serial port. The RAM for user programs is at $1000-$17FF. I have another ROM for the system which contains a hacked version Dennis created to increase the terminal interface speed to 9600 bps and to drive the hex keyboard and display.
For those who don't know, the 6803 is a 6800 with the ability to combine the two 8-bit accumulators to form a single 16-bit one. It also has 128 bytes of onboard RAM as well as inbuilt peripherals like timers, RS-232, parallel ports, etc. The 6801 is the same thing but with built-in ROM as well.
Below, I've included a brief manual on using the Motorola ProBug monitor and a dump of the ROM. The software is probably still copyrighted but I doubt Motorola/Freescale would care about such an old product.
ProBug Monitor manual
ProBug Monitor S19 hex file
Back
Chookfest