Chookfest
Back
Motorola MEK6802D5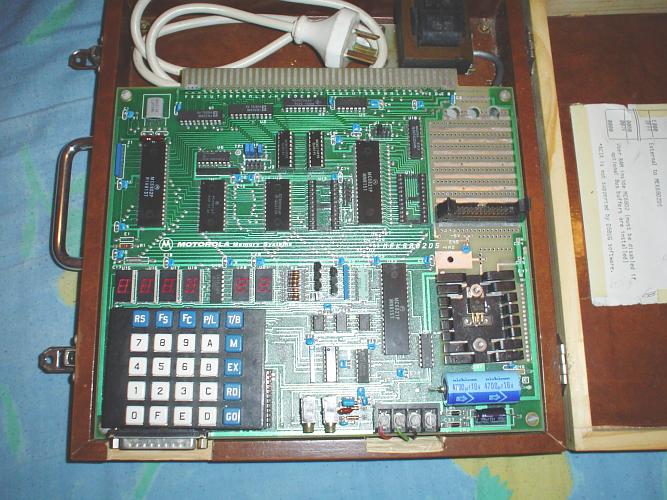 Specifications
| | |
| --- | --- |
| MANUFACTURER | Motorola |
| MODEL | MEK6802D5 |
| YEAR OF INTRODUCTION | 1982 |
| MAIN PROCESSOR | 6802 |
| BITS | 8 |
| CLOCK SPEED | 895 kHz |
| FLOATING POINT UNIT | none |
| MEMORY MANAGEMENT UNIT | none |
| CO-PROCESSOR | none |
| RAM | 1.12k |
| ROM | 2k |
| OPERATING SYSTEM | D5 Bug |
| HONOURABLE MENTION | Dennis Severin |
This is the first computer that I had done any real programming on. We used this in TAFE to learn about how a computer works, basic I/O, addressing, etc. This thing taught me about the wonders of machine code and assembly language. I spent ages entering little programs in hex notation. It was beautiful. I was in love. Believe it or not, it was this machine that got me obsessed.
It's no small wonder then that I was the first to receive one when they were being replaced with 68HC11 boards. It was given to me by my teacher, Dennis Severin, who is the man responsible for spawning my interest in microprocessors. I used to think that computers sucked, until I was shown what went on inside of them. He was also responsible for showing me the first disk cartridge that I'd seen. "We used to use these on the PDP-11 that we had" he told me. I was fascinated.
Dennis, you created a monster and for that I am grateful!
Back
Chookfest