Chookfest
Back
Non-Linear Systems Kaypro II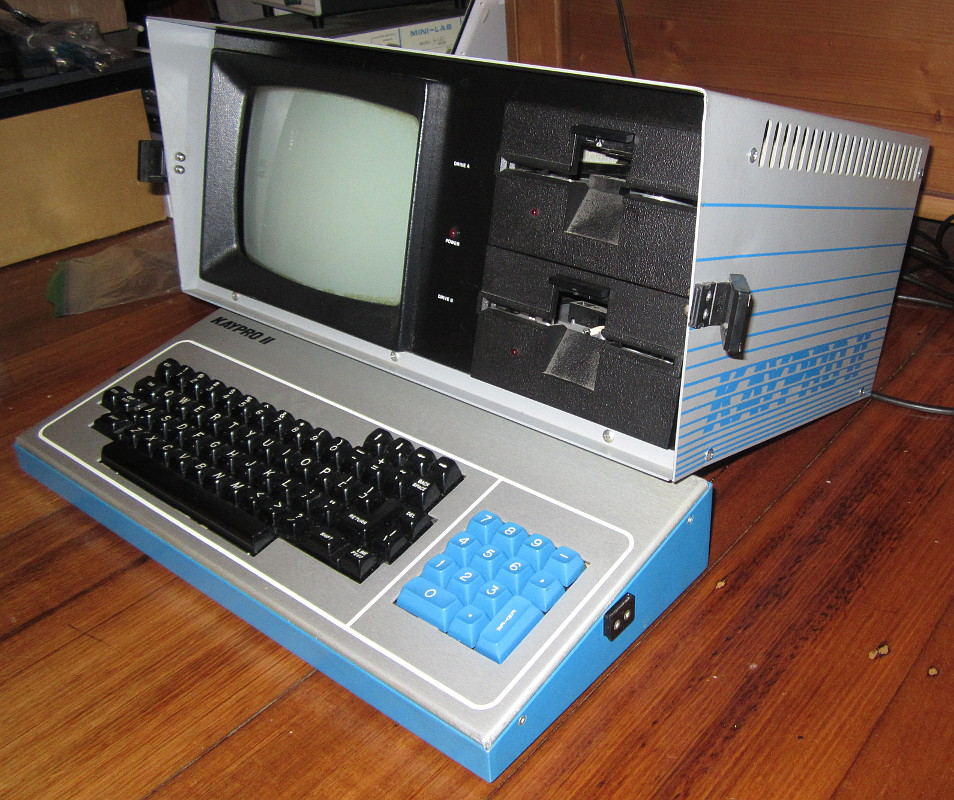 Specifications
| | |
| --- | --- |
| MANUFACTURER | Non-Linear Systems |
| MODEL | Kaypro II |
| YEAR OF INTRODUCTION | 1982 |
| MAIN PROCESSOR | Z80 |
| BITS | 8 |
| CLOCK SPEED | 5 MHz |
| FLOATING POINT UNIT | none |
| MEMORY MANAGEMENT UNIT | none |
| CO-PROCESSOR | none |
| RAM | 64k |
| ROM | 8k |
| OPERATING SYSTEM | CP/M 2.2 |
| HONOURABLE MENTION | me |
It's not like I really needed another computer but I sometimes get weird ideas. I was playing with CP/M again using the simh emulator and I missed my Cromemco Z-1. Unfortunately the Z-1 is rather large and cumbersome and takes a long time to set up and pack away. The DT-III portable XT clone, on the other hand, takes minutes and takes up little space when packed up. Wouldn't it be nice to have a CP/M machine like that?
Amazing how I justify these things to myself.
I had once owned an Osborne 1 but the tiny 5-inch display was a bit sucky. I watched several videos on the Kaypro portable computers and decided that was what I wanted. I saw a Kaypro II in good condition for sale for a decent price so I got it.
The first thing I did when I got it was power it up on my 110V stepdown transformer to check it was okay. Once that checked out fine, I opened it up and jumpered the power supply to operate at 240V. I powered it up again after replacing the power plug and all was sweet. I popped in the boot disk I prepared earlier and was greeted with the A> prompt from CP/M. The B drive had issues but came good after lubricating the rails the head slides upon.
As I'm a chronic tinkerer, I couldn't leave the machine the way I received it. I had read tales of speed upgrades so I had to investigate further. I downloaded back issues of Micro Cornucopia and found all the information I required. I performed the following modifications:
Fixed an issue with the floppy circuitry which could cause data corruption. This was outlined in a field service memo for the early revision Kaypro II motherboard.


I doubled the refresh rate for the dynamic RAM.


Modified the pinout for the ROM socket to allow the use of 4k EPROM chips, therefore allowing me to upgrade the firmware. This also required a minor modification to the addressing circuitry so the chip select was active for the whole 4k window.


Built a piggy-back adapter with a switch to select one of two 8k chunks of an 28C256 32k EEPROM or 27C128 16k EPROM. This allows me to choose between two versions of firmware without swapping chips. In mine, I can use either the 81-232 Kaypro firmware or the KayPlus-83 firmware from MicroCode Consulting. The addressing circuitry was further modified to allow the chip select to be active for 8k. Should the adapter be removedand a 4k EPROM be used instead, it will appear twice in the memory map but the machine will still operate as normal.


Added a faster specced Z80 CPU and used a different output pin on the clock divider to run it at 5 MHZ instead of the stock 2.5 MHz. I could have made this switchable but couldn't be bothered.


Replaced the original single sided Tandon TM-100 floppy drives with double sided models and modified the mainboard to be able to use them.
What I now effectively have is Kaypro IV with a faster CPU. It's quite a different beast to what it was when I got it.
Back
Chookfest