Chookfest
Back
Sun SPARCstation IPX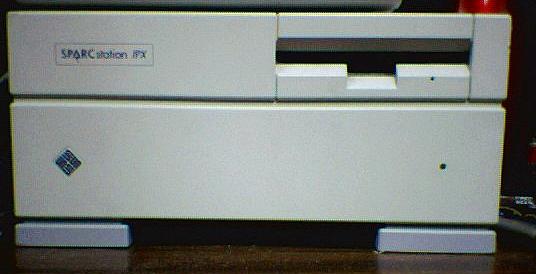 Specifications
| | |
| --- | --- |
| MANUFACTURER | Sun Microsystems |
| MODEL | SPARCstation IPX |
| MAIN PROCESSOR | W8701 |
| BITS | 32 |
| CLOCK SPEED | 40 MHz |
| FLOATING POINT UNIT | integrated |
| MEMORY MANAGEMENT UNIT | 4c |
| CO-PROCESSOR | none |
| RAM | 40M |
| ROM | 256k |
| OPERATING SYSTEM | NetBSD |
| HONOURABLE MENTION | Toby Thain |
decastro
This is my internet gateway. I named it after one of my idols, Edson DeCastro, the mastermind behind the DEC PDP-8, and the Data General Nova.
Now this machine is just plain cute! When it came to choosing one of my machines to use as a gateway to share the internet connection, the IPX was the obvious choice. Being such a small machine I found it to be perfect. As an operating system, NetBSD is excellent for 32-bit SPARCs. Linux has problems with memory management with the 4c architecture, like the IPX, and runs painfully slow. NetBSD is much speedier!
Anyway, enough of the free plug. This box runs 24 hours a day, 7 days a week, no crashes, no problems, no shit! There's really something to be said about UNIX, eh?
Back
Chookfest