Chookfest
Back
Apple iMac DV SE - Summer 2000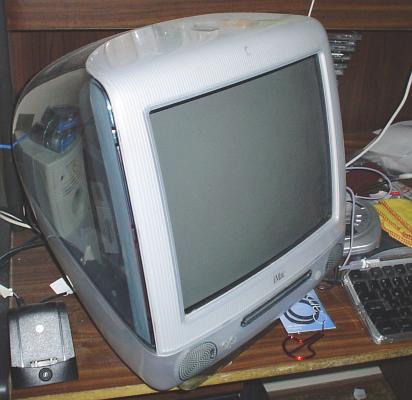 Specifications
| | |
| --- | --- |
| MANUFACTURER | Apple |
| MODEL | iMac DV SE - Summer 2000 |
| YEAR OF INTRODUCTION | 2000 |
| MAIN PROCESSOR | 750 |
| BITS | 32 |
| CLOCK SPEED | 500 MHz |
| FLOATING POINT UNIT | integrated |
| MEMORY MANAGEMENT UNIT | integrated |
| CO-PROCESSOR | none |
| RAM | 768M |
| ROM | 1M |
| OPERATING SYSTEM | MacOS 9, MacOS X, Linux |
| HONOURABLE MENTION | me |
gurner
This was my main machine on which I did most of my work, including developing this website. It was bought around September 2000, not long after I was dumped by my girlfriend at the time. The purchase of this computer is not a result of that, it's just coincidence.
I was living with my parents at the time and was running Linux on a second hard drive in their PC. My sister ran Windows so she could do her schoolwork. As a result of me being constantly blamed for the many times Windows crashed (I set up the machine, it MUST be my fault) I went out and bought a Mac, removed Linux from their computer, and decided I'd have nothing else to do with it. If I no longer use it, I can't be blamed.
This machine has served me well for five and a half years before I retired it as my main computer.
Back
Chookfest