Chookfest
Back
Hewlett Packard iPaq hx2490b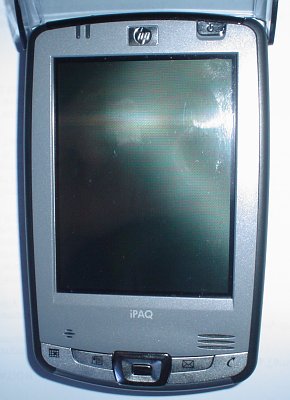 Specifications
| | |
| --- | --- |
| MANUFACTURER | Hewlett Packard |
| MODEL | iPaq hx2490b |
| YEAR OF INTRODUCTION | 2006 |
| MAIN PROCESSOR | PXA270 (ARM) |
| BITS | 32 |
| CLOCK SPEED | 520 MHz |
| FLOATING POINT UNIT | none |
| MEMORY MANAGEMENT UNIT | integrated |
| CO-PROCESSOR | none |
| RAM | 64M |
| ROM | 192M (64M system + 128M user) |
| OPERATING SYSTEM | Windows Mobile 5 (YUCK!) |
| HONOURABLE MENTION | me |
I bought this a few days after finding out my attempts in trying to patch up my relationship with my ex-girlfriend were futile. Although fully aware that indulging in 'retail therapy' by buying myself a new toy won't make me any happier or emotionally fulfilled, the few days I spent beforehand trying to talk myself out of such a purchase proved to be pointless. All it took was a hangover, and mild sleep depravation, and my defences were down. With card in hand, a shopping I went.

The worst thing I can say about this device is that it runs Windows Mobile, but it's not as bad as the desktop version probably due to a lack of cruft for backwards compatibility. Still, it ain't brilliant.

None the less, I didn't buy it for the software but the hardware. It has a nice beefy XScale ARM CPU, wifi, bluetooth, an ample amount of RAM, and a couple of card slots for more storage. Plus, you guessed it, Linux is in the process of being ported to it. There are a few bugs to be ironed out first. Until then, I need to run Virtual PC on my Mac to sync it and deal with Windows. Hell, at least I now have internet access on the go where ever there's a wifi hot spot.
Back
Chookfest