Chookfest
Back
Apple Network Server 500/132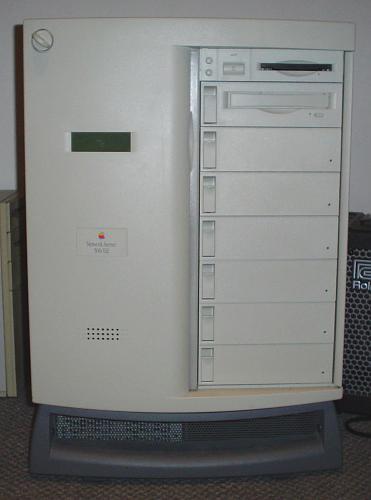 Specifications
| | |
| --- | --- |
| MANUFACTURER | Apple |
| MODEL | Network Server 500/132 |
| YEAR OF INTRODUCTION | 1996 |
| MAIN PROCESSOR | 604 |
| BITS | 32 |
| CLOCK SPEED | 132 MHz |
| FLOATING POINT UNIT | integrated |
| MEMORY MANAGEMENT UNIT | integrated |
| CO-PROCESSOR | none |
| RAM | 96M |
| ROM | 4M |
| OPERATING SYSTEM | AIX |
| HONOURABLE MENTION | pro_apps |
faust
The Apple Network Sever was a strange machine as it wasn't a Macintosh. It couldn't run MacOS and, instead, ran IBM's unix OS known as AIX. It was produced for 14 months before it was discontinued and support for it was dropped soon after. It was a huge flop.
I won this on eBay for AU$79.95 plus shipping. Unfortunately it came without disks or RAM but, being a hoarder of parts, I had some to spare for it. It's about the size of a small bar-fridge, weighs 40kg or so, and has little wheels on the bottom of it to aid in moving the thing. It has multiple drive bays on the front but I can't install any drives as it's missing the PCB's to plug them into. It has an extenal SCSI port, which is fortunate. My favourite feature is the LCD on the front, which shows the machine status.
Getting Linux to install on it is a major pain in the arse. I gave up after several attempts where the installer crashed just before it was to install the packages. Fortunately the same guy I bought the machine from also has AIX for it so, of course, I bought it off of him. Once it arrives, it'll immediately be installed.
Back
Chookfest