Chookfest
Back
Commodore KIM-1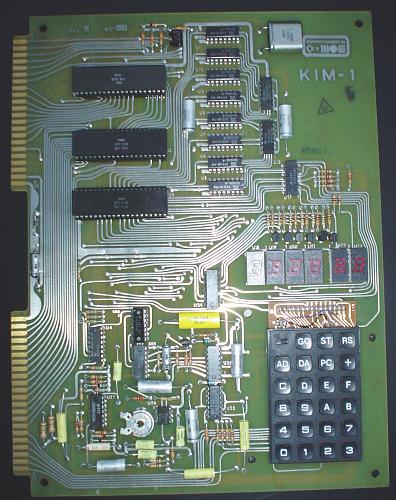 Specifications
| | |
| --- | --- |
| MANUFACTURER | Commodore/MOS |
| MODEL | KIM-1 |
| YEAR OF INTRODUCTION | 1975 |
| MAIN PROCESSOR | 6502 |
| BITS | 8 |
| CLOCK SPEED | 1 MHz |
| FLOATING POINT UNIT | none |
| MEMORY MANAGEMENT UNIT | none |
| CO-PROCESSOR | none |
| RAM | 1.12k |
| ROM | 2k |
| OPERATING SYSTEM | KIM-1 Monitor |
| HONOURABLE MENTION | Don Journet |
This is the very first Commodore computer, originally produced by MOS. It was given to me by one of my teachers at TAFE, Don Journet, who had bought it when microprocessors were all the rage. Being an analogue guru, he couldn't really get into programming it so he packed it up and stored it for 20 years or so.
When he noticed that I had an obsession with 8-bit development boards, he offered to sell it to me. I received it in immaculate condition, complete with all the original manuals and advertising material. It has thus become one of my prize posessions amongst my collection.
The KIM-1 was based on the 6502 processor and spawned several semi-compatible systems by other manufacturers such as the SYM by Synertek, and the AIM-65 by Rockwell. The 6502 was very popular as it was considerably cheaper than other processors, like the 8080 and 6800, and still has a very devoted following.
Back
Chookfest