Chookfest
Back
Commodore Amiga 1200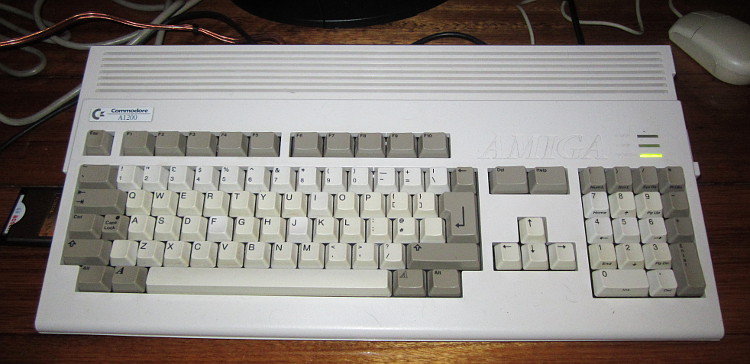 Specifications
| | |
| --- | --- |
| MANUFACTURER | Commodore |
| MODEL | Amiga 1200 |
| YEAR OF INTRODUCTION | 1992 |
| MAIN PROCESSOR | 68030 |
| BITS | 32 |
| CLOCK SPEED | 40 MHz |
| FLOATING POINT UNIT | 68882 |
| MEMORY MANAGEMENT UNIT | internal |
| CO-PROCESSOR | none |
| RAM | 130M |
| ROM | 512k |
| OPERATING SYSTEM | AmigaOS 3.9 |
| HONOURABLE MENTION | me |
I had wanted an Amiga 1200 for many many years and decided to pull my thumb out and buy one when I saw a very clean specimen available on eBay. It came in its original box along with a heftier than stock power supply, a mouse, joystick, Workbench 3.0 manual, and a handful of disks. Also, as stated by the seller, the hard drive had been replaced with a 4Gb compact flash card.
Since it's been in my hands, I've made quite a few upgrades:
I've added an ACA1233n accelerator card. This adds a 40MHz 68030 CPU to replace the 16MHz 68EC020, giving it quite a speed boost. One can also use software to choose which cpu to use on bootup. The card also adds 128M of Fast RAM to the stock 2M of Chip RAM on the motherboard, giving a total of 130M of RAM. The ROM on the motherboard can also be remapped in 1M of Fast RAM, allowing it to be executed faster. There is also the ability to add a 68882 FPU, which I have installed at 50MHz.


An obligatory real-time clock has been added.


An Indivision 1200 AGA Mk2cr scan doubler has been installed which gets rid of the horrible flickering in the high resolution interlaced modes, as well as allowing me to use modern LCD displays via the DVI port it adds.


The ROMs have been upgraded from Workbench 3.0 to 3.1 which allowed for the next upgrade.


The operating system was updated to AmigaOS 3.9 which was installed on to an 8Gb compact flash card.


I bought a cheap PCMCIA compact flash adapter and installed some drivers to allow me to read compact flash cards via the Amiga PCMCIA slot.


I also purchased a PCMCIA WiFi card but I am yet to get this working properly with my router.
Back
Chookfest